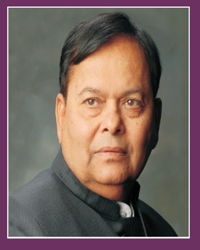 CHANCELLOR
Hon'ble Dr.Patangarao Kadam

M.A.,LL.B.,Ph.D
Founder,
Bharati Vidyapeeth (Deemed to be University)






Dear Students,
I am indeed happy to note your interest in joining our University. I established Bharati Vidyapeeth in 1964 with a realization that the all sided social transformation can be brought about through the spread of education. During the last 50 years we have established more than 160 educational units of various kinds right from Pre primary school up to the University ,in different parts of India and even in the capital city of New Delhi .Bharati Vidyapeeth is an institution with its distinct ideology, which can be briefly stated thus .Our objective is :to make quality education accessible to the students coming from different regions and different strata of the society and provide the same to them as per their individual choices and inclination at affordable prices. Our constant endeavour is to create ambiance in the campuses propitious for learning by providing continuously updated courses and with the help of enriched infrastructural facilities such as well equipped laboratories ,rich library and well maintained playground ,hostels it is a gratifying experience for me to know that thousands of students who have passed out from the portals of our institution have established themselves very well in different walks of life .In April,1996,the Government of India conferred the status of university to a cluster of institutions in accordance with the provisions in the University Grants Commission Act,1956. Since the inception of this University, our endeavour has been to develop it as a lively and throbbing center of learning and research. I am very happy to say here that, within the short span of a decade or so this University has established its academic reputation not only across the country but also outside.This is evident from the fact that we get students from different parts of India and also from different countries. Our both the campuses in Pune are very well planned and very well developed. They can be easily compared with the leading educational campuses in the country. We provide all the necessary amenities and facilities to our students on our campuses. What we have achieved so far is definitely commendable. But I am aware there is still scope for us to better and to reach the higher pinnacles of academic excellence. I have no doubt that we will be able to achieve these objectives in cooperation with our faculties of various institution which include experts, experienced and student caring teachers. I wish, you will be one of those fortunate students, who will get admission to one of our colleges. I assure you that your life in our campus will be richly rewarding, academically and otherwise also.


Dr. Patangrao Kadam
Founder