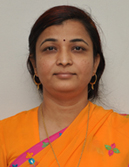 I/C Principal
Dr. Bhagyashree M. Deshpande
B.S.L.LL.B, LLM., NET, Ph.D
I/C Principal, New Law College, Pune
Bharati Vidyapeeth (Deemed to be University)





Dear Students,
Law is an instrument of social change; and Bharati Vidyapeeth New Law College, zealously endeavours to equip the students with legal knowledge to cope up with the changing scenario. Today law is regulating almost every facet of life because of which the study of law has gained a very prominent place in the field of education. Bharati Vidyapeeth New Law College strives to impart legal knowledge by keeping in focus, the expanding horizons of law. One can visualize the splendid blend between the theory and practice of the legal concepts which are taught and practiced in the New Law College. It is very remarkable to note that Bharati Vidyapeeth New Law College is consistently ranked among the first top ten schools in India. The New Law College faculty is not only excellently skilled to deliver a discourse in law, but also extends a very friendly and parental support to the students. The gem students of our college have won numerous trophies and prizes in various national and international competitions. The international moots at Oxford, Florida and Chicago are the hallmark events of our college. The college also indulges in many International collaborations, because of which are dear and deserving students have benefited immensely. The circumference of our alumni is large as many of them are good academicians, or solicitors, or are working in the NGOS, or are placed well in the corporate sector. The outstanding and prominent alumni who are exceptionally placed in the Bar and the Bench are striving hard to spread the fragrance of law and to ensure the real taste of justice to the masses; which is our mission.
I solemnly affirm to give my best in ensuring you to be a lawyer of par excellence.


Dr. Bhagyashree M. Deshpande
B.S.L.LL.B, LLM., NET, Ph.D
I/C Principal