FREE LEGAL AID AND COUNSELING CENTER
We believe in progressive education ideology, interactive pedagogy that promotes learning by doing. As part of an explicit social justice agenda and primarily in response to a lack of legal services for the marginalized, the teachers and students engage in a variety of community outreach program through Legal Aid and Counseling Center. The Center has taken independent and joint initiatives to strengthen the legal aid and legal literacy programmes for making justice accessible to those who cannot afford it. The center undertakes the following activities:
a) Through legal literacy camps and capacity building programs educate/empower people on their rights and how to access them.
b) Provide pro-bono legal services to the disadvantaged and marginalized sections of the society.
c) Develop a strong networking and collaboration with NGOs, Government Institution and communities to ensure equal justice to all.
d) Undertake community based research projects to understand the working of laws and be part of the law reform process.
e) Initiate social lawyering through Public Interest litigations to protect and promote 'public Interest'.
Association with NGO's
The Legal Aid and counselling Center of the college is associated with the following NGOs:
▪The International Longevity Centre, India
▪ The Human Rights Defenders
▪ The Center for Human Rights Advocacy
▪ MC Mehta Foundation, Delhi.
▪ Bahujan Hitaya, Pune Prakalp, Pune


Besides this, the college also has NGOs established by its own initiatives. They are:
▪ KARVA: Pioneer in creating legal awareness not only in Maharashtra but also in states like Bihar and Uttar Pradesh.
▪ SAVERA: Frontrunner in creating legal awareness about the environment and environmental laws.

Highlights of the Social Outreach Programmes & achivementes
▪ Legal awareness and women empowerment program in collaboration with bahujan Hitaya Pune ,at Dapodi on 27th Feb 2019
▪ Women empowerment and legal awareness program conducted at Gosavi Vasti, Hadpser Pune on 26th Feb. 2019 in Collaboration with Bahujan Hitaya, Pune Prakalp.
▪ Legal Aid and literacy camp conducted on 10th Feb 2018 at Dapodi, Pune in Collaboration with Bahujan Hitaya Pune.
▪ kayda vishyaee jan-jagruti satra" organized at "Matoshree" on 30th January 2018
▪ Legal Aid and legal literacy camp was organized at Janta Vasahat, Parvati on 10/10/2017 in collaboration with Swadarshani Foundation and at Bhatnagar, Pimpri on 12/10/2017 in Collaboration with Bahujan Hitaya, Pune prakalp.
▪ BVDU , New Law College received First Prize, award from Hon'ble Shri Justice A.M Badar, Judge High Court Of Bombay chief guest ,for the event at Inter Collegiate Pathnatya (Street Play) Mega Competition on 20-24 Sep 2017 organised by, Pune District Legal Services Authority in association with Pune Bar Association and N.S.S Unit of Savitribai Phule, Pune University.
▪ A visit was organized to the old age home, Matoshri Vrudhhashram, Pune
▪ A visit was organized to High Court, Mumbai
▪ Student visited Consumer Court, Pune to understand the working of Consumer Courts.
▪ Students visited Yerwada Prison, Pune
▪ To make our students understand functioning of the Debt Recovery Tribunals, a visit was organized to Debt Recovery Tribunal, Pune wherein the students interacted with the Judges and the Presiding and Debt Recovery Officers.
▪ Our students participated at Mahalok-Adalat and assisted the litigants, lawyers and the Judges in getting the cases resolved in speedier manner. More than 150 students participated in the Mahalok Adalat which was organized by the City Civil Court in association of the District Legal Service Authority,
Pune on 17th October, 2012.
▪ Police Internship Programmes were undertaken to make our students aware of the actual functioning of the Police officials, a special programme in association with Maharashtra City Police was started wherein the students had to complete a short period of training under the supervision of a police official. The police officials had taken our students with them at night patrolling, live raids under PETA Act, etc.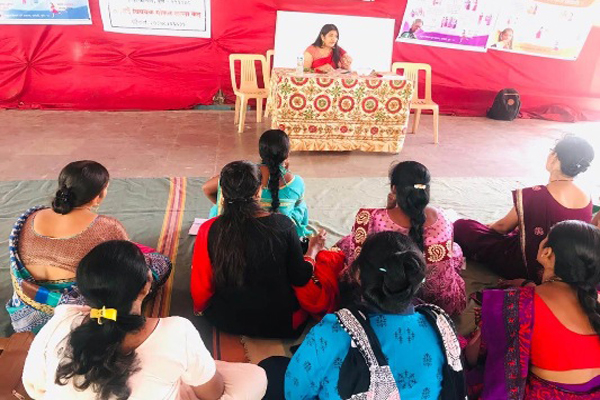 'Legal awareness and women empowerment program in collaboration with bahujan Hitaya Pune ,at Dapodi on 27th Feb 2019.'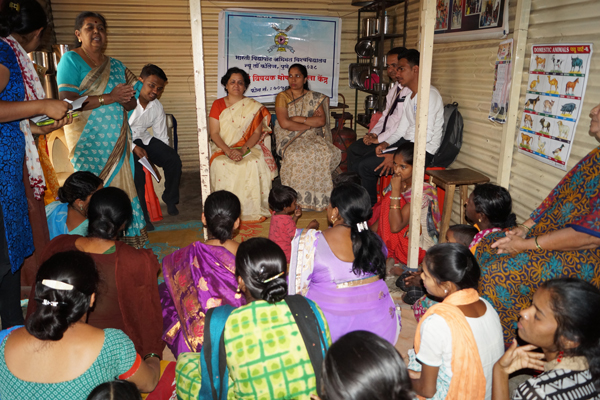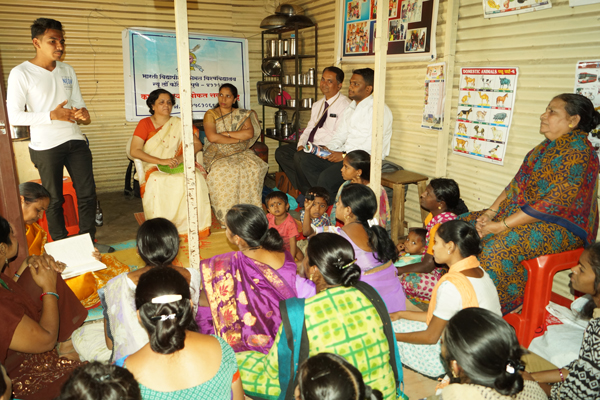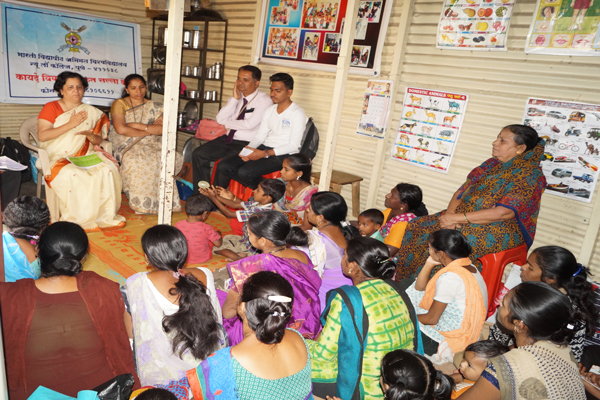 ' Women empowerment and legal awareness program conducted at Gosavi Vasti, Hadpser Pune on 26th Feb. 2019 in Collaboration with Bahujan Hitaya, Pune Prakalp.'
'Legal Aid and literacy camp conducted on 10th Feb 2018 at Dapodi, Pune in Collaboration with Bahujan Hitaya Pune.'
'kayda vishyaee jan-jagruti satra" organized at "Matoshree" on 30th January 2018'
'Winners'of the Inter Collegiate Pathnatya (Street Play) Mega Competition
Legal Literacy Camp at Janata Vasahat, parvati, Lane No 102 organised on 10.10.2017
in collaboration with Swadarshani Foundation

Legal Aid students with Prof.Dr. Mukund Sarda. Dean & Principal New Law College Pune
Legal Literacy Camp at bhatnagar, pimpri on 12.10.2017
in collaboration with Bahujan Hitaya...Pune Prakalp